Forest School
'Forest School is an inspirational process that offers ALL learners regular opportunities to achieve and develop confidence and self-esteem through hands-on learning experiences in a woodland or natural environment with trees'.
(Forest School Association)
What is Forest School? FSA video
At Symondsbury Primary School, through our Forest School sessions, we hope to encourage independent, enthusiastic and creative learners who develop holistically through a well-planned and interesting child-centred approach.
Please read our handbook for a thorough breakdown of how Forest School works at Symondsbury:
Please scroll down to the bottom of the page for the accompanying appendices to the handbook
information for parents
Guidance for Volunteer Helpers
Our wish list for donated items
Parent's session recorded Zoom meet
Governor and Parent information slides
Forest School provides children with the opportunities to:
- see, explore and experience the natural world through all four seasons
- work together
- develop communication and language skills
- be creative
- develop gross and fine motor skills
- learn about being safe when near a fire or handling tools
- build their self-esteem
- develop independence
- develop respect and a love of our plants, trees and animals
- take risks
Whatever the weather....
"There is no such thing as poor weather; just poor clothing!"
We will always be out for our sessions, regardless of weather. Rain can be a lot of fun! There are times, for example, when there are very high winds, where we may need to adjust our location and/or plans. Whenever this is the case, you will be notified by the forest school leader no later than 8am on the morning of the session.
Kit list....
Walking boots, Trainers, Wellies – sandals and snow boots are not suitable
Warm layers – vests, socks, thermals (in Winter), it is much better to have several thinner layers than one thick layer.
Long sleeve top – light layers for warmth. Children need to wear long sleeves in Summer and cover legs in the Summer too, this helps to prevent ticks, stings and bites.
Jogging bottoms, jeans, leggings or tracksuit trousers (NO SHORTS) – which helps prevent ticks, stings and bites.
Good quality waterproof coat and trousers – the children will be out for at least 3 hours. So keeping warm and dry is a way to have more fun.
Warm hat and gloves – In colder weather the children will need a pair of gloves and a spare pair in case they get wet.
Sunhat and Sun cream – when it is sunny, even though we have some coverage from the trees the children must have had sun-cream applied before the session and wear a hat.
Your child can bring a small ruck sack with them containing their water bottle, snacks and their pack lunch, (if they don't have hot meals).
Fun in the woods.....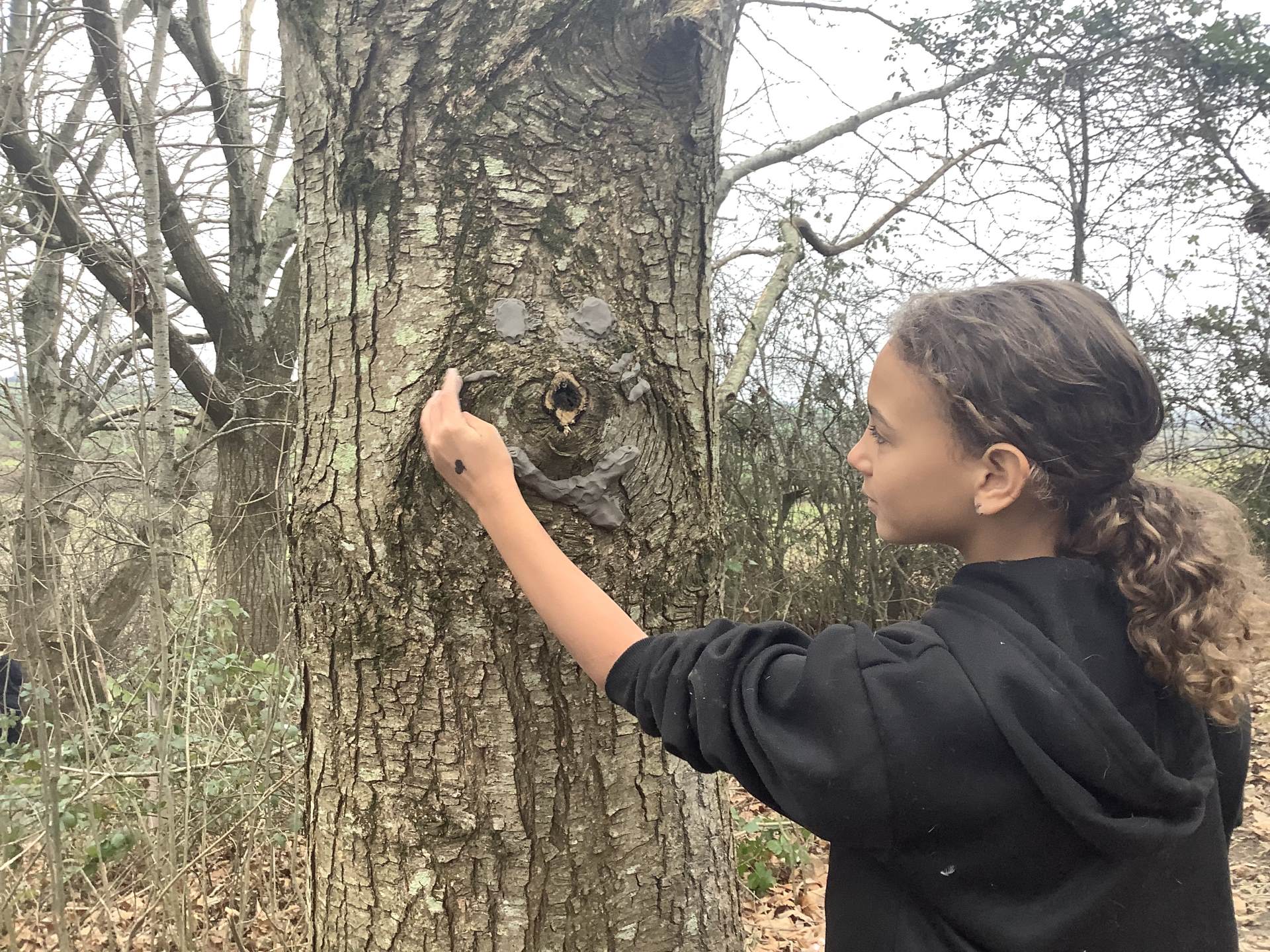 Forest School Handbook appendicies: